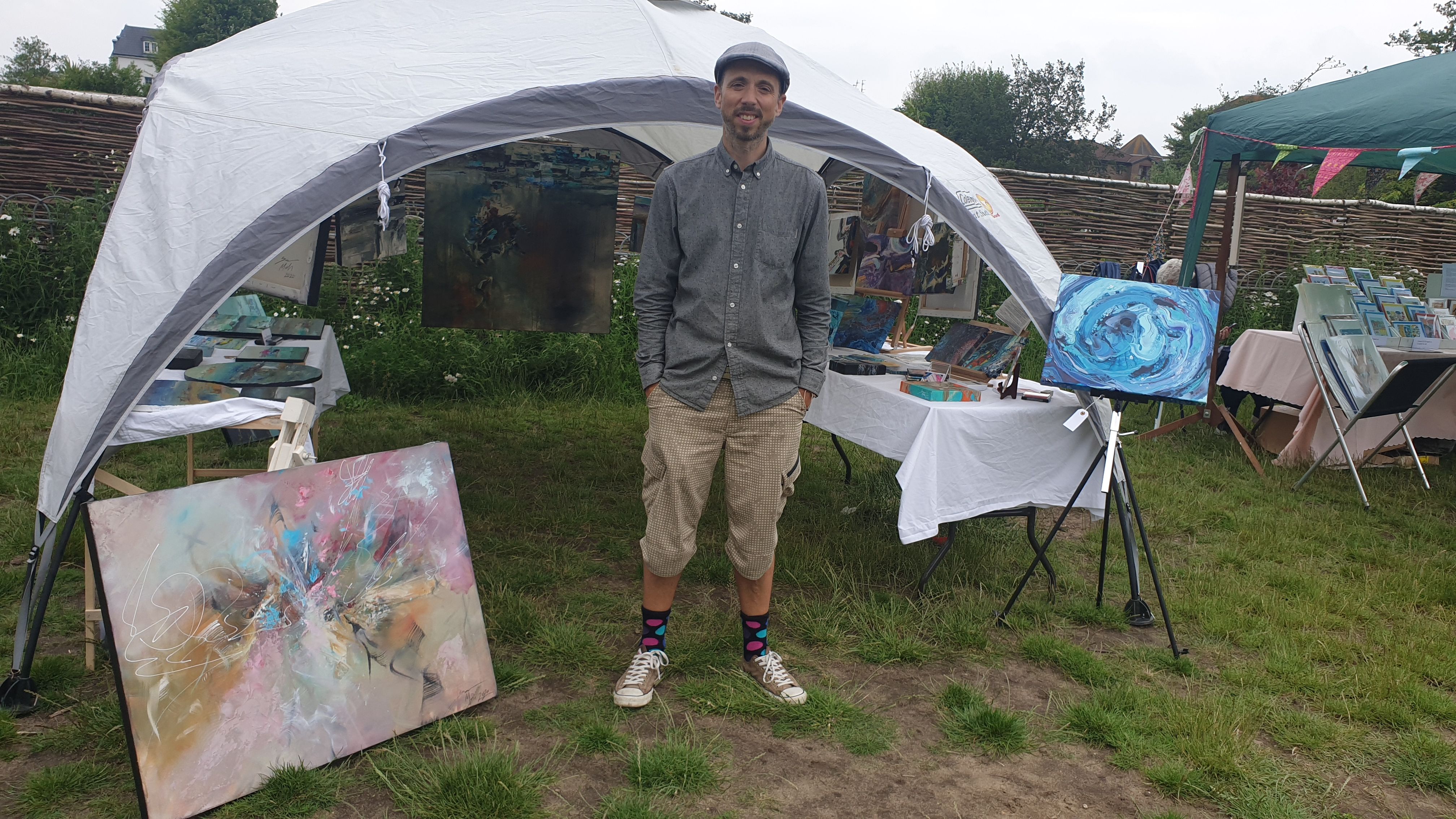 I had an amazing time at St Ann's Well gardens art fair in Brighton over the weekend. 
It was the first time I had done this so I wasn't sure exactly what to expect. 
True to form, I began getting properly organized for it a few days before. This is something I do and probably won't change, it just means I have run around trying to organize everything at lightning speed, which keeps me on my toes! There were many things that needed doing, like finishing off some of the paintings, (varnishing/signing/edges) buying bits and bobs like gift bags, price tags etc. Trying out the gazebo failing and borrowing one off some friends who came to the rescue, then getting some prints made up at the local printers. Surprisingly I managed it all and was just about ready to go on the Friday evening. Early on Saturday my dad and me set off in the car into the unknown world of art fairs… 
Setting up went well, the gazebo my friends lent me was a breeze to assemble. it was putting up all the paintings which was the time consuming part, I was still writing up tags by the early afternoon! 
Aaaannnyway, to cut long story short it all went really well. Better than expected. It's a nice experience, people commenting on my art, it's interesting to hear how they perceive it, what they see usually surprises me and catches me off guard, like ohhh right I never saw it that way! They would occasionally flip it over which creates a whole new perspective! so yeah, to get the feedback I did and make a few sales in the process was great! Many kids were particularly drawn to the fluid stuff, well adults too but it was super nice to hear the kids getting excited by all the things they could see. Sea animals and whirlpools, dragons. Many things I had never made out beforehand.  
I usually make my art then move onto the next piece without looking at it again, it's only when someone else notices something in there that I am pulled back into it. I suppose it's like my music, once I've finished it I don't really want to listen to it again as for me it was mainly about the process...
Id like to thank everyone at St Annes well for organizing the event and making it such a memorable experience.
I received some feedback below which made me so happy to read...
 
"Aaron, Today I came to st.anne's with my two lil boys. 
My lil boy ran over to us and said, 'mummy you've got to see this!' (Whirlpool)
He brought us to your amazing blue painting where we looked deeply into your brush strokes and discovered whirlpools and mermaids, sea spirits and giant whales. 
We fell in love with it. 
It was lovely speaking with you and refreshing to discover your welcoming and open attitude to the experiences of those drawn to your art. 
I love exploring the colours and textures and details up close. Then, stepping back, a scene emerges in my mind.  
Talking about "waterfall"
"Fishing boats in estuary, reflected in salt marshes, the beach with emerging town from the rocks, the deep ocean beyond, the high white cliff's walks"